Pleading the Fifth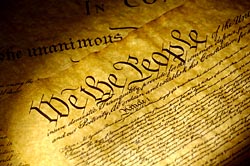 Even if you have never studied law, chances are, you have probably heard the term "pleading the fifth" at some point in your life.
A common expression used when someone invokes his or her Fifth Amendment right that protects from self-incrimination, pleading the fifth prevents you from being forced to testify against yourself during a criminal trial.
If you are ever charged with a crime and your case goes to trial, it is important to know that you do not have to testify. In fact, if your testimony would incriminate you in any way, it may be in your best interest to invoke your Fifth Amendment right. Keep in mind, however, that pleading the fifth applies to your entire testimony—this means that you cannot choose to answer some questions and refuse to answer others.
Witnesses may also choose to plead the fifth when they take the stand. Unlike the defendant, however, witnesses can be forced to testify (usually through a subpoena). As a result, a witness can choose which questions he or she feels comfortable answering.
If a witness refuses to answer specific questions, the prosecutor in the case may offer him or her immunity in exchange for his or her testimony. This means that, should the witness's testimony include any details that incriminate him or herself, the prosecutor will not charge the witness with a crime. In cases where immunity is not an option, prosecutors may be willing to reduce the charges in exchange for a full testimony.
In order for a prosecutor to allow a witness to testify during a criminal trial, he or she must be confident that the witness is telling the truth. If an attorney knowingly allows a witness to lie on the stand, he or she may face fines, sanctions, and even criminal charges. Defense attorneys, on the other hand, will try to damage the witness's credibility and prove he or she is lying if the witness's testimony is damaging to the defendant.
Copying, reproduction, or duplication of the content, web design, or look and feel is strictly prohibited.
SelfIncrimination.Org HAS SUPPLIED THE INFORMATION ON THIS WEBSITE FOR INFORMATIONAL PURPOSES ONLY. THE INFORMATION ON THIS WEBSITE MAY NOT BE 100% ACCURATE AND SHOULD NOT BE INTENDED AS LEGAL ADVICE. THE USE OF THIS WEBSITE DOES NOT CREATE A LAWYER-CLIENT RELATIONSHIP. HIRING AN ATTORNEY IS A VERY IMPORTANT DECISION. BEFORE HIRING AN ATTORNEY IT IS IMPORTANT TO ASK FOR WRITTEN AND VERIFIED INFORMATION ABOUT THE ATTORNEYS QUALIFICATIONS AND EXPERIENCE.