Right to Counsel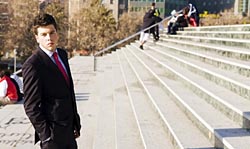 The Sixth Amendment of the U.S. Constitution guarantees all citizens the right to an attorney if he or she is ever accused of a crime.
Also known as "right to counsel," this protection ensures that all defendants—even those with limited income—have the opportunity to consult with an attorney before their case goes to trial. In fact, the Sixth Amendment states that if a defendant cannot afford an attorney, one will be provided to him or her at no charge.
Regardless of whether you hire your own attorney or choose to have one appointed to you, the Sixth Amendment's right to counsel also guarantees effective legal representation. This means that, from an ethical standpoint, all attorneys—whether employed privately or by the government—must provide competent counsel for their defendant. However, if you are found guilty, it will be difficult to prove that your conviction was due to ineffective legal representation—even if your attorney made several errors during your trial. As a result, obtaining legal representation from an experienced criminal defense attorney is always in your best interest.
As a defendant, your right to counsel can be invoked at any time during the criminal case—whether it is during your arrest or after you have been convicted. Once you decide to hire an attorney, it is important to understand his or her duties and responsibilities. First and foremost, your attorney is there to ensure that your constitutional rights are not violated in any way. In addition, your attorney will make sure you understand the charges against and keep you informed during the proceedings. He or she will also offer recommendations for your case and, if applicable, negotiate a plea bargain with the prosecutor. Most importantly, your attorney will defend you during your trial and make sure all of the evidence used against you is legally valid.
Copying, reproduction, or duplication of the content, web design, or look and feel is strictly prohibited.
SelfIncrimination.Org HAS SUPPLIED THE INFORMATION ON THIS WEBSITE FOR INFORMATIONAL PURPOSES ONLY. THE INFORMATION ON THIS WEBSITE MAY NOT BE 100% ACCURATE AND SHOULD NOT BE INTENDED AS LEGAL ADVICE. THE USE OF THIS WEBSITE DOES NOT CREATE A LAWYER-CLIENT RELATIONSHIP. HIRING AN ATTORNEY IS A VERY IMPORTANT DECISION. BEFORE HIRING AN ATTORNEY IT IS IMPORTANT TO ASK FOR WRITTEN AND VERIFIED INFORMATION ABOUT THE ATTORNEYS QUALIFICATIONS AND EXPERIENCE.